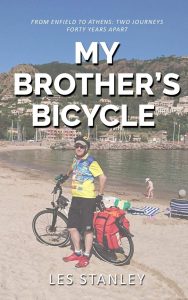 When I say my oldest friend has written a book. I mean the friend I've known the longest, not the most elderly friend I have. "My Brother's Bicycle: Enfield to Athens on a Tandem… by Les Stanley" recounts not just the trip mentioned in the title but various travels and travails around the world.
I should mention that I get a mention. Not polite, not pretty and unnecessarily cruel, I'm sure you will spot it. The book is sometimes spiritual, although I don't think gin is mentioned. Sometimes thought provoking, though not so much as to give the reader a headache. Sometimes exasperating, tales of putting bikes on trains in France & Italy demonstrate the folly, in my opinion, of two-wheeled travel!
The style is conversational and very amusing. Les manages to put you in his shoes and gives you the opportunity to pedal along in his wake. A great read – highly recommended.
Available in a print or electronic format from Amazon and all good bookshops and some pretty crummy ones too.
This is the authors description of the book:
This book describes a journey of contemplation and misadventure as I re-live a bicycle trip I first embarked on as a fresh faced 20 year old. It was more than 40 years ago that I originally mounted the tandem and headed south with a guy I had met at Liverpool Street station a few days earlier. Rod Stewart was still on his third marriage. The channel tunnel was just a dream and only a few years had passed since Man first walked on the Moon. For the re-run I was better prepared, or so I thought. An electric bike as opposed to a clunky old tandem with barely functioning gears, and, as you'll read in the book, limited braking capabilities. A GPS to guide me and help find accommodation. I even had a helmet and a trendy cycling shirt. I'd drawn the line at padded lycra shorts though. A far cry from the T-shirt, cut-off Levis, tattered maps and soggy campsites of my previous ride. And this time my wife was coming with me, not some guy called Alan from Enfield whom I had met through an ad in Time Out magazine. What could possibly go wrong?
Leave a Comment