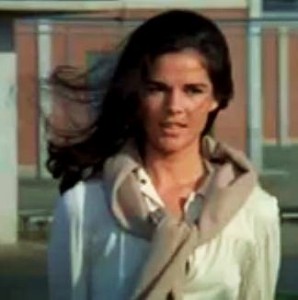 Was a fictional character played by Ali MacGraw in the 1970 film Love Story, for which she won a Golden Globe Award for Best Actress and was Nominated for an Academy Award
Upper class boy and top law student Oliver Barrett meets Jennifer "Jenny" Cavalieri, a quick-witted, working-class student of classical music. They quickly fall in love, despite their differences.
Their love affair ends in marriage and after various trials and tribulations they have it all, great jobs, great lives and are planning a family when Jenny is diagnosed with leukaemia and at the end of the film dies in Oliver's arms. As a teenage boy I was totally in love with Jenny and utterly devastated by her death.
The film is perhaps best remembered for the line "Love means never having to say you're sorry".
There were some other great lines too Phil, Jenny's Dad warned his daughter not to violate the Eleventh Commandment. "Do not bullshit thy father," I have often quoted that one to my girls.
I also loved this exchange between the couple when they first met:
Jenny: "You look stupid and rich."
Oliver: "Well, what if I'm smart and poor?"
Jenny: "I'm smart and poor."
Oliver : "Well what makes you so smart?"
Jenny: "I wouldn't go out for coffee with you that's what."
Oliver: "Well what if I wasn't even gonna ask you to go out for coffee with me?"
Jenny: "Well that's what makes you stupid."
The name Cavalieri appeared again in my life when I was fifty and my wife Carol took me to Rome for a birthday treat and we stayed at the Cavalieri Hotel Rome without doubt the best hotel I have ever stayed in – fantastic.