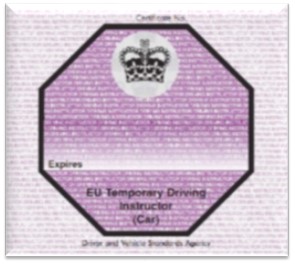 The question of who can supervise a learner driver, and in what kind of vehicle, is one that is fraught with difficulties and pitfalls.
As I understood it to supervise a learner in any category a Supervising Driver must: be at least 21 years old; have a full driving licence (for the type of vehicle being used – manual or automatic); have held that valid licence for a minimum of three years; ensure the car is in a safe and legal condition; and meet the minimum eyesight standards.
However, it seems that – and not for the first time – I was wrong, and I have received the following statement from the DVSA.
The Driving and Motorcycle Riding Instructors (Recognition of European Professional Qualifications) Regulations 2016 enables instructors from other member states to have their instructor qualification recognised.
They will have originally qualified under their own member state's domestic arrangements, which may not necessarily include a requirement to have held the Category B entitlement for three years, as we do.
The provisions in the Motor Vehicles (Driving Licences) Regulations 1999 which permit a provisional licence holder to drive under the supervision of a driving instructor (or a qualified driver) could mean that an ADI (who qualified elsewhere in Europe) supervising a B+E provisional licence holder might do so without necessarily having held that entitlement themselves for three years – the fact that they are an ADI enables them to do so.
Because of ensuring equivalence, ADIs who have qualified under GB arrangements can also supervise B+E on the strength of them holding the licence entitlement and being an ADI, although they have not necessarily met the three years driving experience requirement that is necessary as a 'qualified driver'.
Our interpretation is that the skills they have already demonstrated to become an ADI and their ability to identify hazards more quickly than the ordinary motorist and to take control of a potentially developing situation would mitigate any risk that might otherwise be present if the driver was supervised by someone who had not fulfilled the three years driving experience.
This could also apply to other categories, including C and D, though we would expect numbers meeting both criteria to be small. This change in regulation has brought about the introduction of new ADI badge for instructors who wish to work in the UK on a temporary basis.
So, this is another area ADIs can work in if they are interested and – from a health and safety point of view do know what is required for a B+E test and how to teach it.