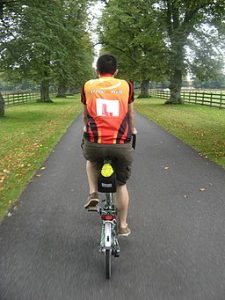 In May (Everyone has an opinion on road safety)  I reported that I had attended a meeting to discuss the Department of Transport 'Call for Evidence Cycling and Walking Investment Strategy: Safety Review'.
That meeting was attended by a wide variety of stakeholders including representatives from transport operators, cycling and walking organisations, associations representing other road users, disability groups, road safety professionals, researchers and academics, community health bodies, ADIs, cycle trainers, and other interested parties.
Following on from that Call for Evidence wit emerged in August that ADIs were to be offered bespoke training to ensure cyclists' safety is at the forefront of their minds when they teach new drivers, as part of the Department for Transport's Cycling and Walking Safety Review. The review's aim is to make walking and cycling the natural choice for shorter journeys, or as part of a longer one, rather than driving. This, of course, fits into the higher order skills outlined in the GDE Matrix Level Three "modal choice"
Cycling Minister Jesse Norman announced that the Department will begin work on two initiatives:
The Department will be providing training materials and support to police forces so that more drivers are made aware of the need to leave safe distances when overtaking cyclists
Driving instructors will be offered bespoke training to ensure cyclists' safety is at the forefront of their minds when they teach new drivers.
In September I represented MSA GB alongside other ADI group representatives at a meeting titled 'Driving Instructor Cycle Awareness Training Pilot Working Group', chaired by the DfT. Others there included representatives from the Bikeability Trust, Cycle Training UK, Safe Roading, TFL Delivery Planning, DVSA and Cycle Confident.
The meeting concluded that training to raise awareness among ADIs regarding cyclist safety should be examined further.
More recently I attended a road safety seminar in Hull where two of the speakers were police officers from West Midlands Police who devised the award-winning Operation Close Pass (#OpClosePass) which has now been adopted by police forces across the UK.
They told the audience that the clear majority of drivers they stopped for passing too close to cyclists were not new young drivers; rather, the big offending group were mostly males over 40 years old. Younger drivers seemed more happy to work with cyclists for the good of all
So, should we be working on courses for ADIs to pass on skills to learners, or should we be passing the message about sharing the road on to fleet trainers, in order that they can perhaps better influence the older generation?