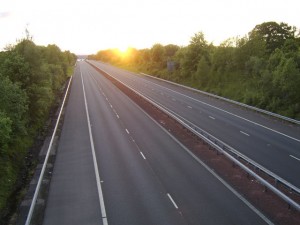 I was recently discussing the merits of lane departure warning systems, which many readers will know is an in-car mechanism designed to warn the driver when the vehicle begins to move out of its lane unless a turn signal is on in that direction.
The systems are designed to minimise crashes by addressing the main causes of collisions: driver error, distractions and drowsiness.
My comment was about the fact that I was recently driving a car fitted with the system on a motorway, in very light traffic. I decided to change lanes and was assaulted by visual, audible and haptic feedback that genuinely made me jump. There is no doubt that if I had been nodding off I would have been awakened.
However, I wasn't falling asleep or re-tuning the radio, I was just changing lanes without signalling first – and there was no need to. The downside of the system was obvious: if I wanted to change lanes at speed I had to signal to avoid the sensory overload of the lane departure warning system.
'But you must signal' said a colleague. 'Driving – the Essential Skills states that on a motorway you must signal well before you start to move out.'
'No', said I. 'You only give signals when they are necessary.' A bit of oh yes, you do, oh no, you don't, followed and I quickly backed down because I could not remember word for word what it said in the book.
Next day I studied the text
The Official DVSA Guide Driving – the Essential Skills states in the chapter "On the Motorway" as follows:
Changing lanes: Don't change lanes unnecessarily. You should
keep your vehicle steady in the centre of the lane
not wander into another lane.
MSM routine: Always use the MSM routine well before you intend to change lanes. At higher speeds, you must start the routine much earlier. Look and, if necessary, signal in good time. Remember, vehicles might come up behind you very quickly. [my underscoring for emphasis]
So, I was right all along – I thought. However, reading on in the chapter it states in the section 'Overtaking':
Signal: You must signal well before you start to move out. This gives drivers behind you plenty of time to anticipate what you intend to do and could influence any manoeuvres they're planning.
Note the word must. The original advice given now seemed a bit ambiguous. This, I thought, is why we have a chief driving examiner. I wrote to Lesley Young outlining the conundrum and asked 'will you please state if signals are discretionary or compulsory on motorways and why'.
She replied: 'The principle of signalling is that it will benefit other road users; therefore signals should be given when necessary and in good time.
'In terms of lane changing on motorways, the need for a signal will depend on the traffic conditions. The driver of the vehicle you are overtaking may benefit from a signal; likewise, vehicles in other lanes of the motorway might also benefit.
'Unless the motorway is very quiet, a signal would probably be necessary.'
She went on to clarify the text:
'The Quote: "You must signal well before you start to move out" is not about always signalling, but stating that if a signal is considered to be necessary, it must be given in good time.'
Conundrum solved, thanks Lesley. If you have a question about the text of one of the DVSA manuals or any other driving or driver training matter, come along to the MSA GB Conference and Training Day at Telford on 18th March. You will have an opportunity to put your question direct to Lesley Young, the Head of Policy and Chief Driving Examiner, DVSA. You will find all the details here.