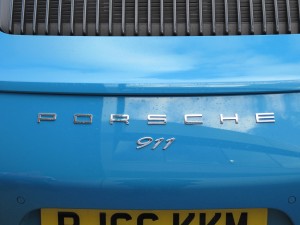 "This time we are going to try a launch control start", said Mark, my Porsche driving consultant as we sat at the start line of the circuit's straight.
We were on a safe and controlled part of the circuit at the Porsche Experience test track, a place designed to allow drivers to fully explore how a Porsche accelerates and stops.
We had already tried accelerating hard – and braking equally hard – along these straights, but now we were taking it to another level. It's all part of the individually tailored and carefully choreographed training that takes place on this track.
I must admit I'm not a motor racing fan: I have never driven a proper sports car before and I would make no claim to be a petrol-head – rather, I would like to think I was perhaps the opposite (whatever that may be titled!). However, it is impossible not to be a little awestruck by the Porsche Driving Experience. The centre, the tracks, the coaches and most of all the stars of the show – the cars.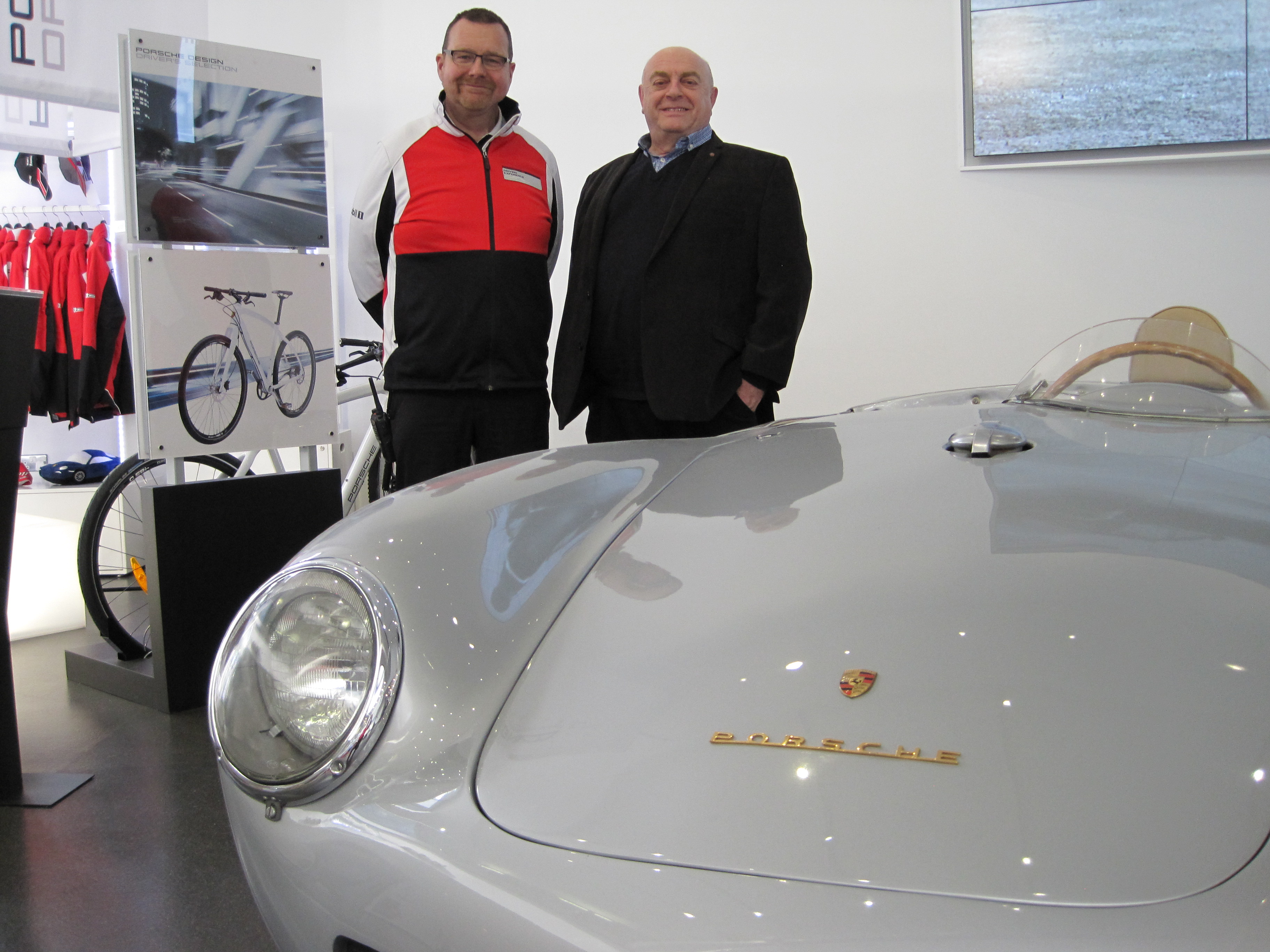 I had been invited by Gordon Robertson (above) chief driving consultant at the Porsche Experience. The car is a Porsche 550A RS Spyder from 1957; a similar car was recently sold at a Goodwood auction for £4.6 million.
Gordon had suggested I try out the Porsche experience. He briefed me a little about what to expect before handing me over to Mark Robins, a DVSA ADI and a member of MSA GB – a pre-requisite for all the Porsche driving consultants.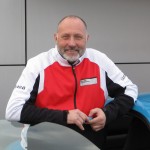 Mark (pictured left) proved himself, throughout our session, to be an absolute expert not just on the driving of these high-performance cars but on all the cars in the Porsche range and all the different attributes of the huge variety of 'extras' available for every model. Not only was he a knowledgeable expert he was also an enthusiastic and skilled coach.
The Porsche Experience Centre is situated at the Silverstone Circuit, and located next to Hangar Straight. It's not part of the Grand Prix circuit; rather, it is a specially designed track that incorporates six elements: a handling circuit, straights, kick plate (for skids), ice hill, low friction and off-road circuit.
This environment enables visitors to be guided through a variety of different situations in wet and dry conditions as well simulating ice and snow driving with the use of specially constructed surfaces. Every experience is tailored to the requirements of each guest, with individual learning objectives to be met and giving the coach an opportunity to genuinely make a difference.
My training session was conducted in a Porsche Carrera 911 C2S. I'm no performance car expert but it is difficult not to be impressed by the numbers (which I have quoted in imperial; if you want km/h or l/100 k visit www.porsche.com )
The engine is a six-cylinder horizontally opposed aluminium twin-turbo engine, with a displacement of 3.0 litres and a power output of 420 hp at 6,500 rpm. Acceleration from 0 – 60 mph is under four seconds in sport mode, with a top speed around 190 mph.
By comparison an average driving school car moves from 0 – 60 mph in 12 to 15 seconds and has a top speed of around a 100 mph…
The car I drove also benefitted from the Porsche Doppelkupplung (PDK) transmission with a seven-speed dual-clutch gearbox with manual controls on the steering wheel and gear selector. It includes an automatic mode and coasting function. 'Coasting' in this vehicle means the automatic declutching of the engine to allow the vehicle to continue under its own momentum without engine braking. The reduced driving resistance apparently helps to reduce fuel consumption.
Prices start from £88,245.00 including VAT though when you add in the available extras you can easily push the asking price to over £100K. The car I drove was a non-standard colour Miami Blue and was fitted with non-standard lightweight racing seats made from glass-/carbon-fibre; it even had carbon fibre floor mats. The full specification of the car was extremely impressive and includes lots of safety features.
So back to the launch control start. This involves the sport mode, left foot braking and maximum acceleration. Once launched the car moves off very quickly (that is something of an understatement) though just as impressive is the relatively short distance in which the car can stop. To meet type approval, every Porsche must be capable of decelerating from 60 – 0 mph in less than half the time it takes to accelerate from 0 – 60mph! That works out at around 1.8 seconds
Composite ceramic brakes, which are around half the weight of conventional brake discs, mean that the rotational mass is less and the heat disbursement massively improved. The quality of brake performance remains constant through the heat cycle, meaning consistent brake performance for longer and the overall longevity of the discs.
I also had the opportunity to have some training on the ice hill, a computer-controlled, simulated sheet ice experience, and spent some time on the kick plate. This is a moveable metal plate set flush with the road surface which generates the effect of a loss of rear wheel traction. I also had a few trips around the handling circuit where I managed to stay on the track – just about.
Then it was back to the centre for another look around and a very tasty lunch in the onsite restaurant. All too soon my Porsche experience was over. I'd had an exciting, interesting, at times breathtaking, and very educational session.
It must be stressed that this isn't one of those experiences for boy racers who want to drive round a racing circuit and try to beat their previous best lap. The Porsche Driving Experience is designed to educate drivers in two ways. First, to explain the comprehensive array of technical products and safety features in Porsches, and second, to educate drivers how to use them expertly and safely. It does both really well.
Fancy a dash?
A variety of Porsche driving experiences are available, with prices starting at £295. Every experience is designed to be bespoke for the individual taking part. Your Porsche driving consultant will discuss with you exactly what it is you hope to get out of your time at the centre and tailor make the experience for you.
Fancy becoming a Porsche driving consultant?
The Porsche Experience Centre is looking to expand its select group of driving consultants. Could you be one of the people they are looking for?
There is no exact specification for a Porsche driving consultant but to work at the centre the trainer must be:
an ADI
have experience of driving / coaching in high performance cars eg, in the police or military; through ownership; or have participated in motor sport as a driver / coach
able to deal with a variety of clients
be prepared to travel to Silverstone where all training is conducted
If you are interested send your CV to Porsche's chief driving consultant Gordon Robertson gordon.robertson@partner.porsche.co.uk