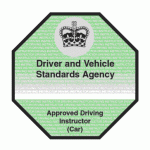 I spoke to a member the other day who asked "do I need to attend for my Standards Check?" of course you do I said unless you have a very good reason to postpone it, why wouldn't you attend? I went on to state how important the test was to maintain standards and then I went on a bit about the person's  sense of responsibility and then I went on a bit more.
Well said the member "Its like this, I've been on the ADI Register for forty four years. I started when I was 21 and I'm just coming up to retirement. I have never missed a check test and since they started telling us our grades I've never been below a five and most times I have been a six.
"I have been invited to attend for a standards check during the last week in March and my certificate runs out at the end of March when I'm going to retire so I wondered if I needed to take a Standards Check?"
I appologised and suggested he could drop a line to the Registrar explaining the circumstances and that I thought he would receive a sympathetic hearing. I must learn to listen to the whole story.