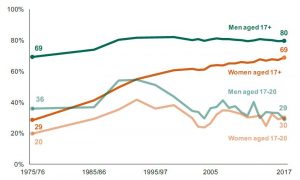 During July the Department for Transport produced a whole heap of data on who holds a driving licence and why some don't want to. The figures are part of the statistics and data about the National Travel Survey, which is based on an annual survey to monitor trends in personal travel.
One of the big stories coming out of the figures was a perception that ADIs were going to struggle in the future, as young people were losing interest in learning to drive. Indeed, that story made it on to Radio 5 Live. Yet in fact the actual findings painted a very different story, as I will explain.
Overall, during the past 40 years, the proportion of people owning a driving licence has risen hugely, with the increases being greater for women than men. Since 1975/76, the proportion of women holding a driving licence has increased dramatically, from 29% to 69% over this period. This represented an increase of 9.6 million women with a driving licence. There have also been significant increases in the proportion of older people with driving licences. Between 1975/76 and 2017, the proportion of people aged 70 with a licence rose from 15% to 64%.
The total number of licence holders in England is now estimated at 32.4 million, which represents around 73% of English residents. We assume the figures would be similar for Wales and Scotland, though the survey did not study those nations.
However, the part of the survey the media focused on was the fall in the number of young adults (aged 17 to 20) with a licence; this has declined since a high in the mid-1990s. In recent years, the main reason for not learning to drive for this age group has been the cost of learning, which 26% of 17-20 year olds who did not have a licence cited as the main reason for not having one, or trying to obtain one. A further 17% said they had not learned to drive because they were just not interested.
Ten per cent of 17-29 year olds who do not hold a licence stated that they were too busy to learn. At the other end of the age spectrum, the vast majority (71%) of non-licence holders in the 60-plus age group said they were either not interested or too old.
Around 8% of 17-to 20-year-old unqualified drivers said they would "never" be interested in learning to drive, while 41% said they were looking to learn in the next year, and another 47% in the next five years.
Perhaps the key statistic is this last one: of all those people who don't hold a driving licence in England, 44% said they were looking to learn to drive at some point. That suggests that there are currently around five million potential customers for driving lessons. In addition, there are around 660,000 teenagers due to hit 17 this year. So, despite the lurid headlines you may have read in some papers, that should keep us all going for a few years!