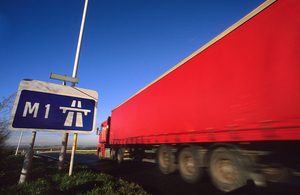 Lorries on motorways are a step closer to accelerating, braking and steering in sync through wireless technology, thanks to £8.1 million government funding for trials that has been announced.
Following the announcement of the trials I was invited by the media to make some comments on how this might effect car drivers on the motorways particularly in light of the recent announcement that Learner drivers will be allowed on to motorways with a driving instructor next year.
Included in the questions I raised were:
How will a platoon form up  and join the motorway?
When on the motorway will the rear vehicle in the platoon have signage to indicate to other drivers that it is part of a platoon?
Will signage indicate the number of vehicles in the platoon?
What effect will a platoon have on vehicles that wish to join and leave the motorway?
With experts at TRL being charged with researching this report I'm sure all  the questions  will be answered in due course. If you have other questions or concerns please let me know and I will make sure they are passed on to the researchers.