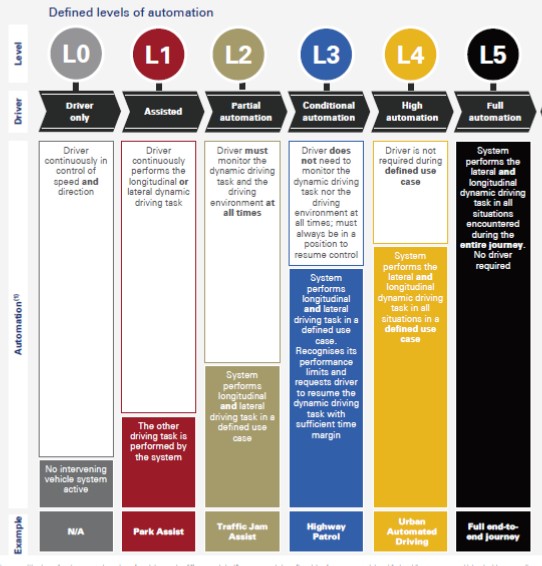 I recently attended a conference on Connected & Autonomous Vehicles, hosted by Herbert Smith Freehills, an international firm of solicitors located in the heart of the City of London and founded about 150 years ago.
Some readers will be familiar with the graphic reproduced right, which is taken from the paper Connected and Autonomous Vehicles – The UK Economic Opportunity produced by KPMG and SMMT earlier this year. It refers to 'levels' of automation for cars. We are currently at Level 2 – partial automation – with such items as park assist (steering only), cruise control, adaptive cruise control, lane assist, collision avoidance, etc.
Many ADIs are asking where this automation will go, how long before the driver is simply carried to his/her destination by a self-driving car? In my view, it will be a good few years before this dream or nightmare, according to your point of view, becomes a reality.
According to the sequence laid out in the graphic the next step should be stage 3, however, there was a widely held view among speakers at the conference that "It may be that the risks associated with [Level 3 automation] are too great to tolerate and that a way should be found to bypass Level 3".
This was a suggestion made in the UK House of Lords Science and Technology Committee Report Connected and Autonomous Vehicles: The future? – published in March this year.
This might mean that items like full parking automation, sometimes called valet parking, intersection piloting and hands-off steering might not be introduced.
There was a session titled Big Data, Cyber Security and IP, which was challenging to understand and looked at the implications of such diverse matters as consumer law, insurability of risk and data privacy. Some interesting conundrums were discussed including the need for anonymised or even pseudonymised data (Pseudonymising is a procedure by which the most identifying fields within a data record are replaced by one or more artificial identifiers, or pseudonyms. There can be a single pseudonym for a collection of replaced fields or a pseudonym per replaced field. The purpose is to render the data record less identifying and therefore lower customer objections to its use. Data in this form is suitable for extensive analytics and processing.) I said this stuff was challenging!
Debate also took place around the concept of data security and of data storage. It was agreed that the amount of data that would be generated by all cars being connected and autonomous was colossal. There are also the difficulties of how different manufacturers would develop systems that speak to each other.
Further challenges were identified. What happens to all the jobs currently provided by transport – not least those of driving instructors? There seem to be no definite answers to any of the many questions raised or on the possible timing of the predicted changes; estimates range from 15 years to never.
Counter arguments include the publics' love of driving and distrust of automation. The introduction of automatic cars in Europe is one example of our resistance. The loss of jobs in both transport infrastructure and production would be challenged and could deter investment.
The conference also touched on alternative modes of transport. There were many in attendance who viewed the car as out of touch with the modern city environment – 'why would anyone invent a ton of metal to carry a solitary person around a city' asked one speaker – and others felt we should forget all types of cars and move everyone over to either pedal cycles or, for the less fit, electric bikes. Others felt that the promotion of high quality public transport was what was required and an end to our emphasis on the car.
Perhaps the most amusing quote of the day was the tongue-in-cheek suggestion (I hope) that if Government is really serious about more people using the London underground or one of the many metro services around Great Britain, they should introduce first class carriages on these services!
There were no definitive conclusions but from what I heard I think we can take it as read there will be a need for professional driver training for at least the next 15 years – and more than likely, the next 50 years, too.