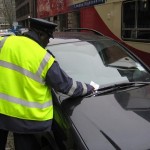 I'm probably being a bit harsh but I'm sure those council parking attendants get some satisfaction out of their jobs they always seem to be smiling when they're issuing tickets.
I was shopping in Manchester city centre last year having paid and displayed in an on road parking bay. I was returning to my car when I saw the parking attended place the ticket on the windscreen. "I'm sorry I'm late back but its only two minutes don't you have any discretion." I said the attendant replied, with a smile "We allow drivers two minutes, you are three minutes late." So that was that thirty quid lighter (half the fine because I paid quickly) and I have not been back to shop in the city centre since.
Under the new laws to help local shops, drivers will get a 10 minute grace period when parked in a bay. This will prevent fines for being just a few minutes late back to the vehicle – be it in a paid or free parking space. Read all about it.
I must admit I'm not a big fan of Communities Secretary Eric Pickles but his comments did strike chord with me. He said:
"We are ending the war on drivers who simply want to go about their daily business. For too long parking rules have made law-abiding motorists feel like criminals, and caused enormous damage to shops and businesses.

"Over-zealous parking enforcement undermines our town centres and costs councils more in the long-term. Our measures not only bring big benefits for high streets, motorists and local authorities – they put common sense back into parking."
Hear, hear. Mr Pickles this time I do agree with your policy. Once enacted it will encourage me to shop again in Manchester. I've gone off Mr Pickles again because I've just heard this is not really a government idea but one put forward by the Transport Committee two years ago this is what Louise Ellman MP, Chair of the Transport Committee said speaking in response to today's announcement:
"These common-sense policies were recommended by the Transport Committee back in 2013. I am delighted that the Government has taken up our recommendations, and that motorists who are just a couple of minutes late back to their cars will no longer face a penalty charge notice.

"Allowing short grace periods for motorists to return back to their car will help address the deep-rooted perception that parking enforcement is used as a cash cow by local authorities: something which is neither acceptable nor legal".
If government had enacted this change back in 2013 I'd have saved thirty quid.